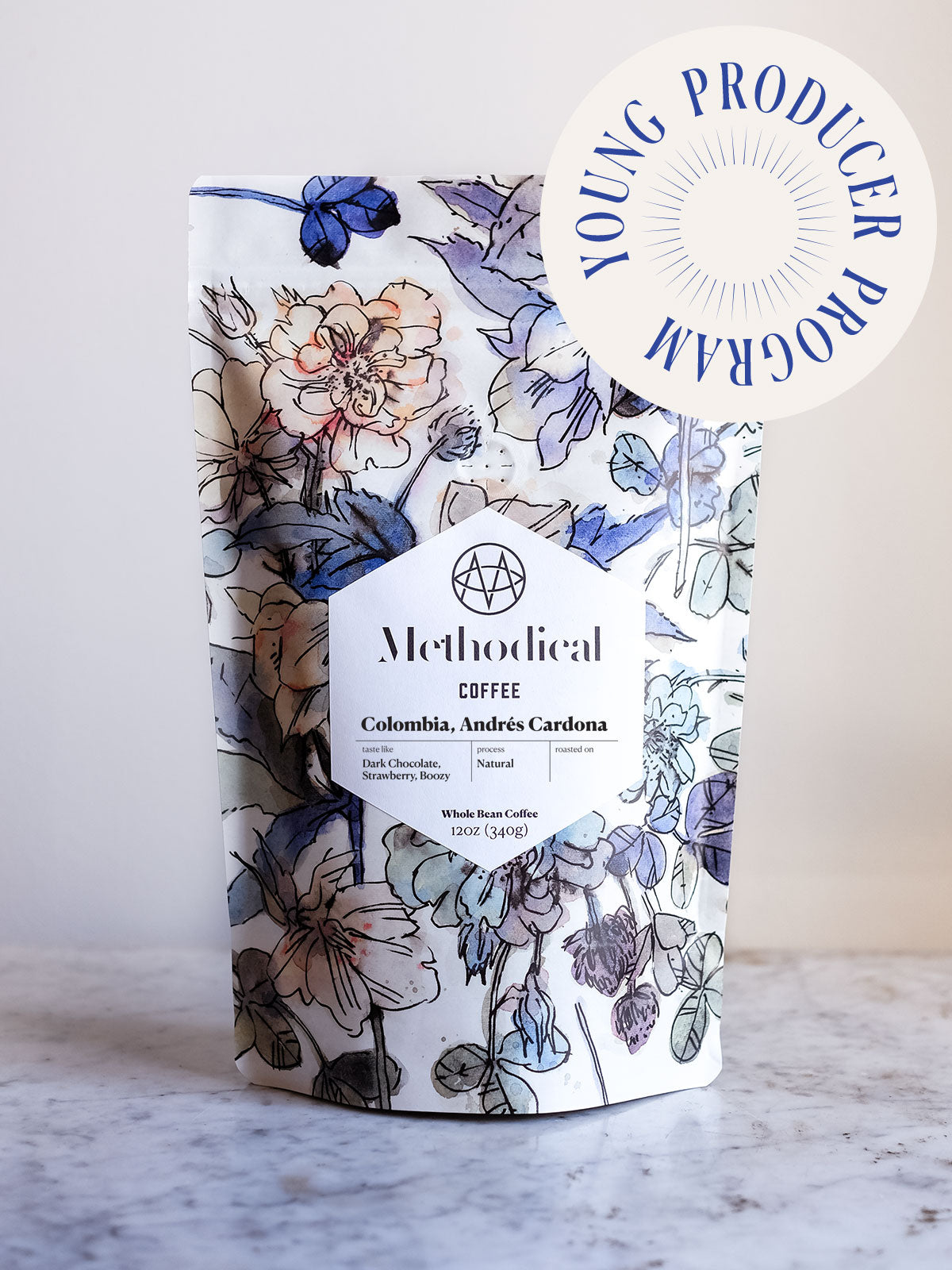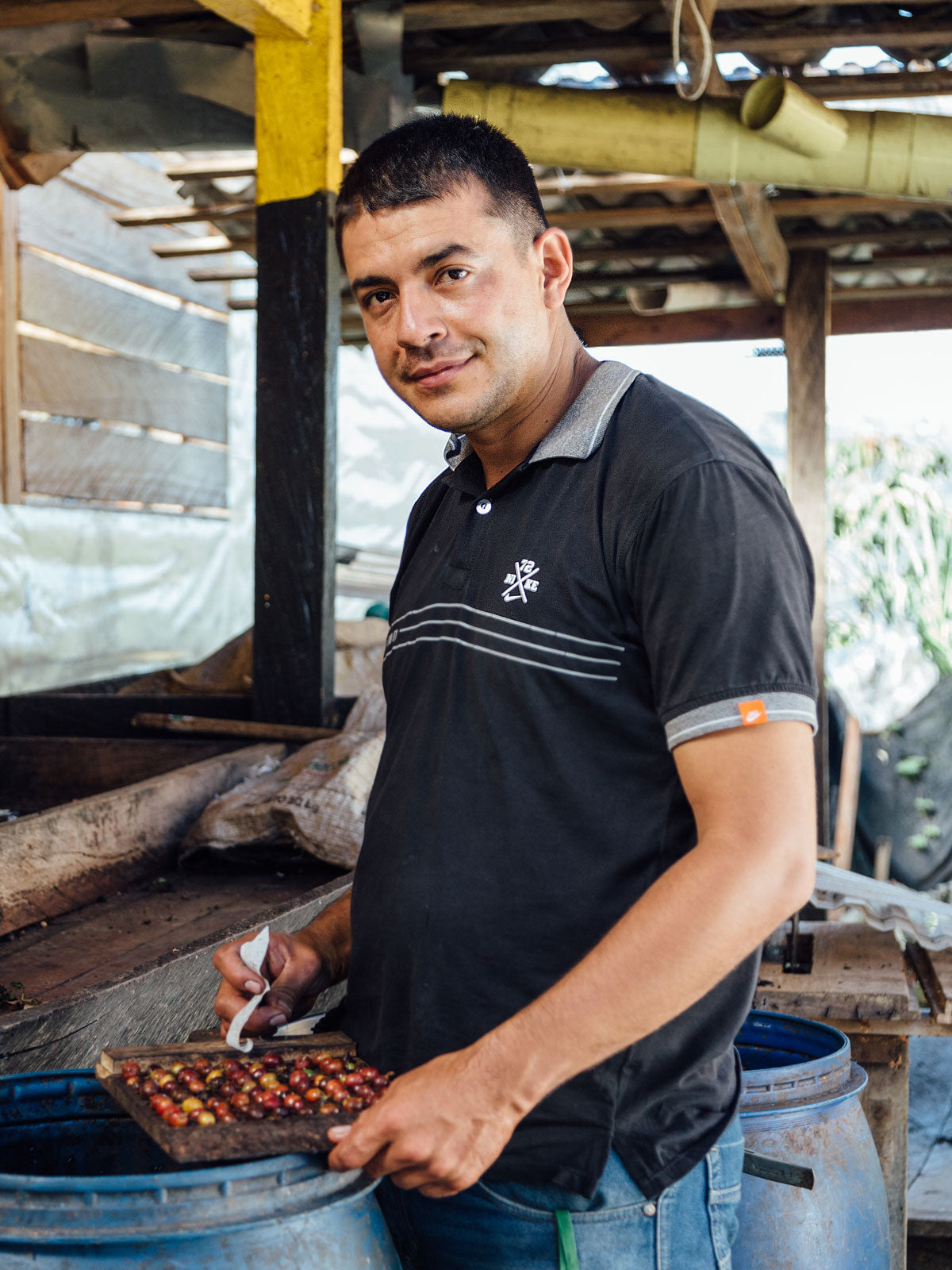 Colombia, Andres Cardona
Pickup available at Methodical at The Commons
Usually ready in 2-4 days
Colombia, Andres Cardona
12oz
Methodical at The Commons
Pickup available, usually ready in 2-4 days
147 Welborn St
Greenville SC 29601
United States
+18643621779
Methodical Landmark
Pickup available, usually ready in 2-4 days
207 Wade Hampton Boulevard
Greenville SC 29609
United States
+18642368449
Methodical Manufactory
Pickup available, usually ready in 2-4 days
999 Geer Highway
200
Travelers Rest SC 29690
United States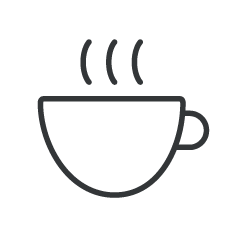 We Taste
Dark Chocolate, Strawberry, Boozy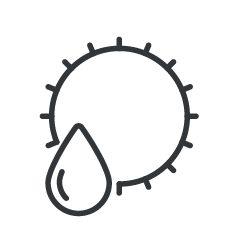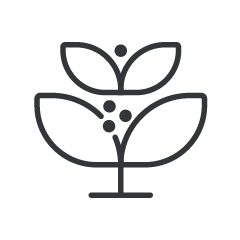 Varietal
Castillo & Colombia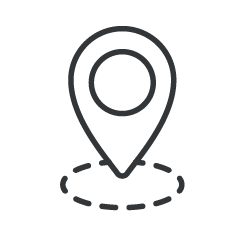 Region
Santa Bárbara, Antioquia, Colombia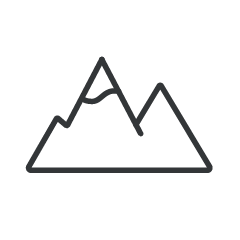 This coffee is a gold standard example of a meticulously natural process coffee from Colombia.
We are so inspired by Andrés. His kind and gentle manner is only matched by his hard work, drive, and focus. Andrés is heavily involved in the UVI young producer program with Unblended and Ventolera. The 'Young Producer Program' is a label that helps young coffee producers create and grow their own coffee businesses. The goal is to share the mission of making coffee farming an exciting career path for young people, highlighting that well-managed coffee can be a great option. We firmly believe that The Future is Young. We feel very fortunate to play a part in this program in purchasing Andrés' coffees and supporting the program.
Andrés is the owner and operator of his own farm where he is tirelessly working to improve his operations by incorporating modern machinery. He's also begun to purchase cherries from his neighbors to increase his production. Andres also assists with his mentor, Felipe Trujillo's farm as well as supervising his family's farm. You simply won't find another farmer more driven than Andrés.
This coffee is a natural processed coffee. This is different from the washed process that is more common in Colombia. During the processing of the coffee cherries, the fruit remains intact with the seed throughout the entire drying process. The coffee is sorted to check for ripeness, and then dried on patios or raised beds while being constantly monitored and turned to prevent spoiling. The coffee cherries are then milled to separate, or "hull", the now-dried fruit from the seeds. Natural coffees are known for their fruit-forward complexity, as the intact fruit lends its flavor to the seed during drying.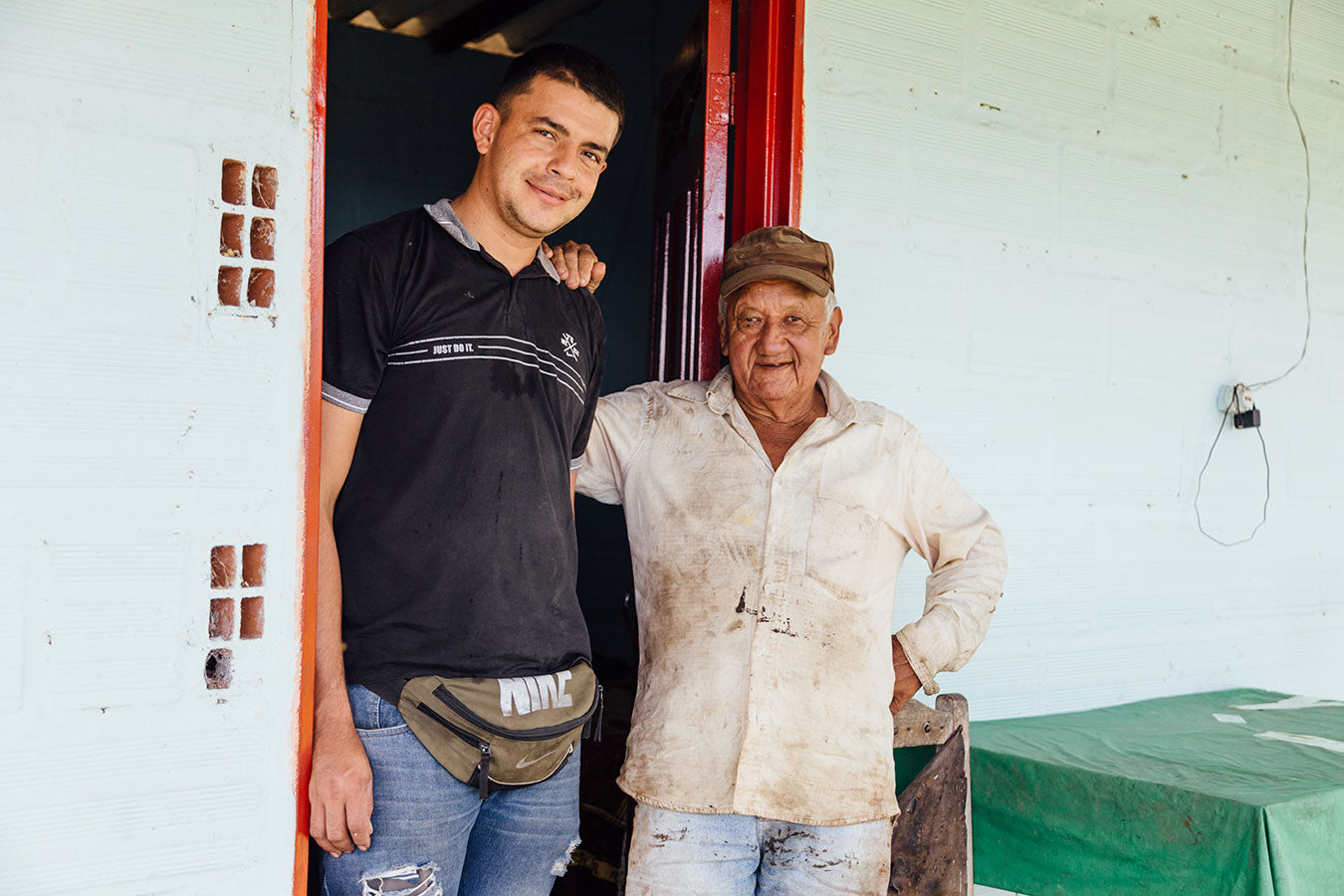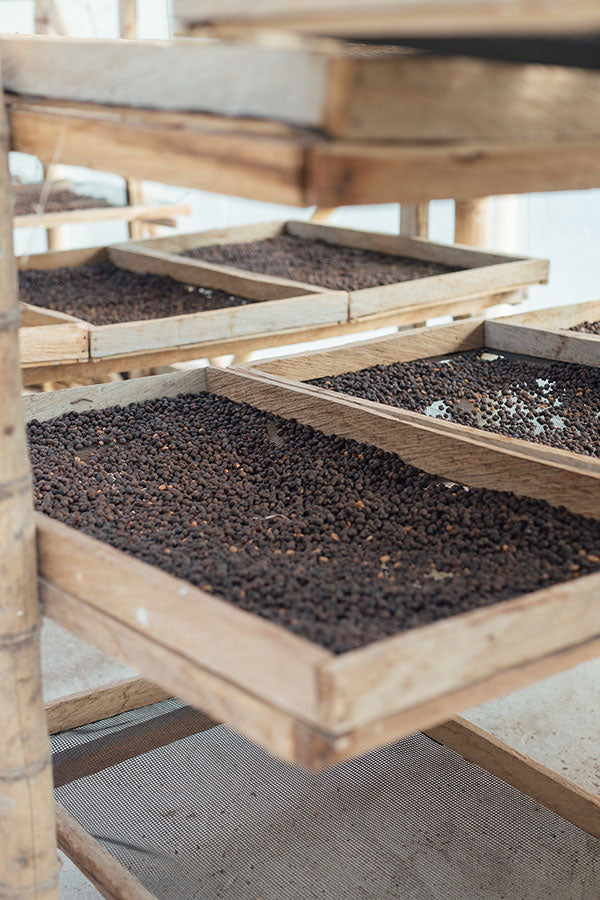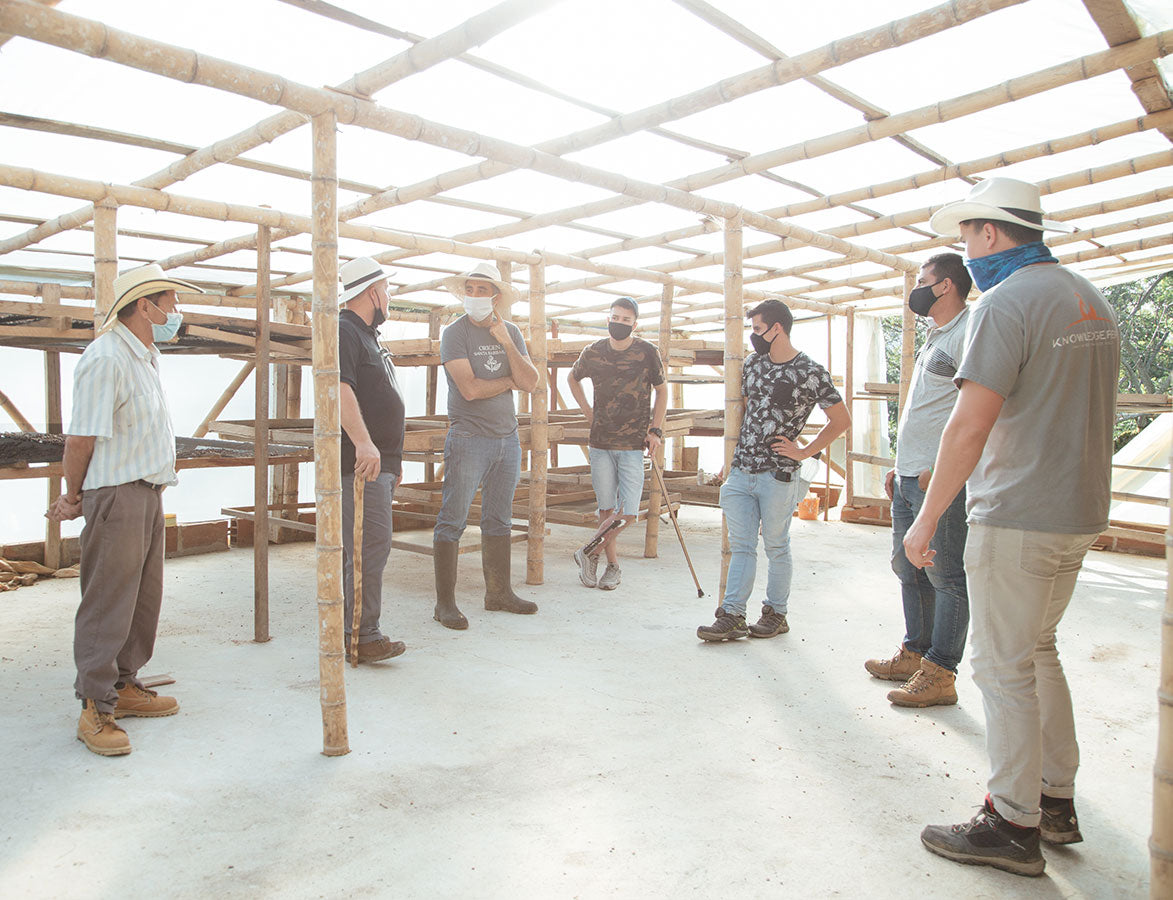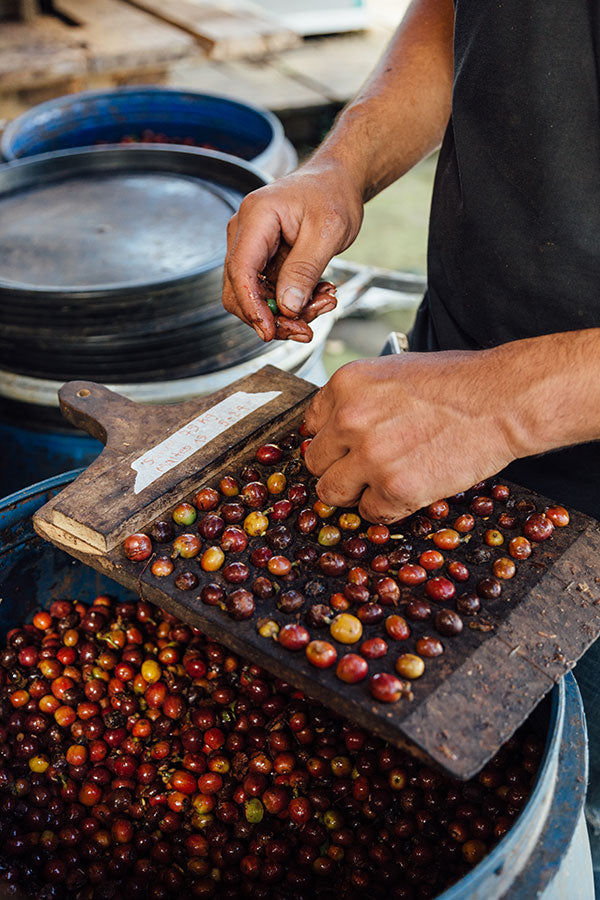 By you? Yes. By us, sadly, no. Currently, we can only ship whole-bean coffee.
We roast to order and ship Monday-Thursday. Orders are usually fulfilled the production day after they are placed (for example, orders placed on Monday will ship on Tuesday). Orders placed Thursday-Sunday will be fulfilled and shipped on Monday.
Freshness is critical to fully enjoying coffee. We roast to order to ensure your coffee is at peak freshness when it arrives. Sometimes our shipping partners experience delays due to weather, heightened demand, technical issues, pandemics, or aliens. All of which is out of our hands, except the aliens, but that's not for here.
If your package is delayed, let us know and we'll track it down and escalate its delivery. If it's delayed more than 2 weeks past the shipment date, and your order includes coffee, we'll either refund your money or ship you fresh coffee at no cost.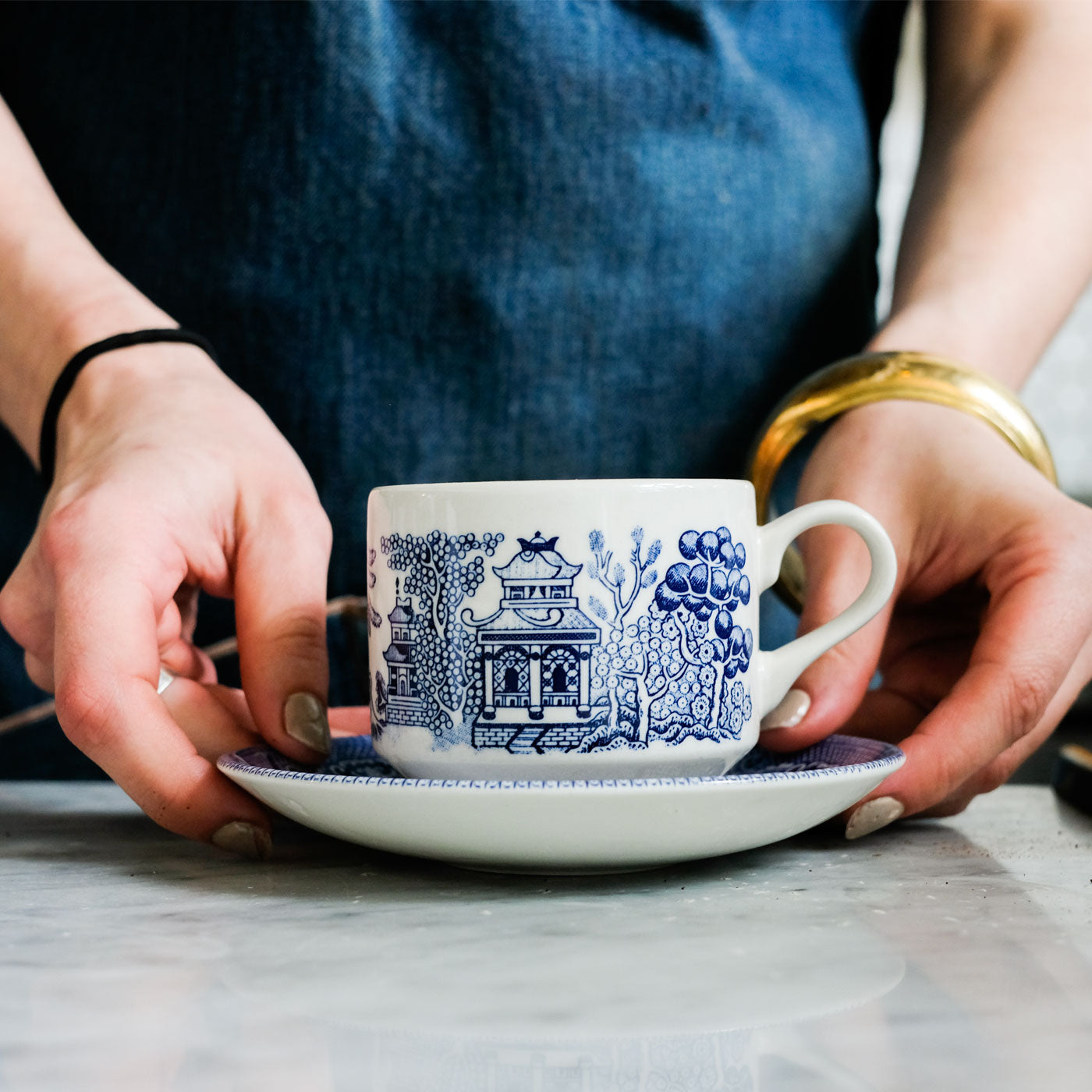 Enjoy Methodical
We roast our coffee and select our teas to express the life it lived and to honor the skilled people who cultivate it. We're passionate about sourcing, creating, and discovering products to elevate everyday life while strengthening connections and community.